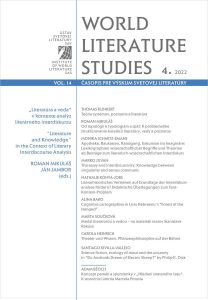 Roman Mikuláš
Ján Jambor
(eds.)
This issue responds to current key research questions on the literature-science nexus, opening up two basic lines of thinking: how literature transforms the complex contents of scientific knowledge and how distinctively literary modes shape scientific discourse. Conceptually the articles focus on this research through the literary theory of interdiscursivity, that is, the analysis of interdiscourses. One block of articles is devoted to the theoretical, methodological and literary-didactic aspects of interdiscursivity, while the other presents case studies on the work of authors whose poetics are characterized by elements of special scientific discourses.
Articles
ROMAN MIKULÁŠ
Od topológií k typológiám a späť: K problematike štruktúrovania korelácií literatúry,
vedy a poznania
MONIKA SCHMITZ-EMANS
Apotheke, Baukasten, Randgang, Exkursion ins Imaginäre: Lexikographien wissenschaftlicher. Begriffe und Theorien als Beiträge zum literarisch-wissenschaftlichen Interdiskurs
MARKO JUVAN
The essay and interdiscursivity: Knowledge between singularity and sensus communis
NATHALIE KÓNYA-JOBS
Literarhistorisches Verstehen auf Grundlage der Interdiskursanalyse fördern? Didaktische
Überlegungen zum Text-Kontext-Problem
ALINA BAKO
Cognitive cartographies in Liviu Rebreanu's "Forest of the Hanged"
MARTA SOUČKOVÁ
Medzi literatúrou a vedou – na materiáli textov Stanislava Rakúsa
CAROLA HEINRICH
Theater und Wissen. Pflanzenphilosophie auf der Bühne
SANTIAGO SEVILLA-VALLEJO
Science fiction, ecology of mind and the uncanny in "Do Androids Dream of Electric Sheep?" by Philip K. Dick
The full content of the issue with links to the individual texts can be found HERE.