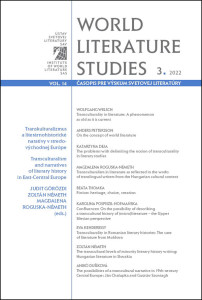 Judit Görözdi
Zoltán Németh
Magdalena Roguska-Németh
(eds.)
This issue explores East-Central European literary and literary historical narratives from the perspective of the phenomena and networks of transculturalism, following the concepts of globalism, heterotopia, extraterritoriality, translocality, deterritorialization and border crossing. By examining the role of transculturalism in the specific literary formations of the region, the articles show the effect of multi- and translingualism as well as cultural hybridity in texts, microliteratures and minority literatures. The aim is to contribute to the development of more diversified approaches in the writing of national literary history in East-Central Europe.
You can read the editorial HERE.
Articles
WOLFGANG WELSCH
Transculturality in literature: A phenomenon as old as it is current
ANDERS PETTERSSON
On the concept of world literature
KATARZYNA DEJA
The problems with delimiting the notion of transculturality in literary studies
MAGDALENA ROGUSKA-NÉMETH
Transculturalism in literature as reflected in the works of translingual writers from the Hungarian cultural context
BEÁTA THOMKA
Fiction: heritage, choice, creation
KAROLINA POSPISZIL-HOFMAŃSKA
Confluences: On the possibility of describing a transcultural history of (micro)literature – the Upper Silesian perspective
EVA KENDERESSY
Transculturality in Romanian literary histories: The case of literature from Moldova
ZOLTÁN NÉMETH
The transcultural levels of minority literary history writing: Hungarian literature in Slovakia
ANIKÓ DUŠÍKOVÁ
The possibilities of a transcultural narrative in 19th-century Central Europe: Ján Chalupka and Gusztáv Szontagh
The full content of the issue with links to the individual texts can be found HERE.