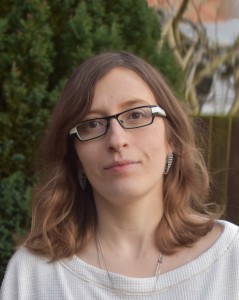 Guest lecture
Dr. Eugenia Kelbert Rudan
(University of East Anglia)
29 June 2022 (Wednesday) at 10:00
Institut of World Literature SAS + online
The implications of the recent "bilingual turn" in psycholinguistics have not yet been fully explored in translation studies, even though this field has bilingualism at its very center. This includes, notably, recent advances in the understanding of linguistic relativity. An up-to-date non-deterministic interpretation of linguistic relativity provides, as I will argue in this talk, a novel perspective on several key areas in translation studies. This concerns especially the study of the so-called translation universals, i.e. textual characteristics that are particular to translations. The proposed approach to translation from the perspective of linguistic relativity thus calls for a more concerted study of the translated text as a kind of literature that is inherently different from original writing. Far from approximating what the author may have written in the target language, a translated text carries a particular kind of literary value that could not have arisen from an original writing process.
Link:
https://us06web.zoom.us/j/85196234711?pwd=TDNEbHlYOTJBcGlQQXhUOU9nOFRuUT09
Meeting ID: 851 9623 4711
Passcode: 059274
Eugenia Kelbert Rudan is currently a scholarship holder at the Institute of World Literature of the Slovak Academy of Sciences within the National Scholarship Programme of the Slovak Republic. She is a Leverhulme Early Career Fellow at the University of East Anglia, where she also serves as Co-Director of the East Centre for the study of East-Central Europe and the former Soviet space (https://www.eastcentre-uea.org/) and Assistant Professor of Philology at HSE University, Moscow (currently on leave). She studied translation studies at the Sorbonne, French and German philology at Oxford and comparative literature at Yale, where her dissertation on translingual literature (2015) won the ACLA's Charles Bernheimer Prize. She specialises in comparative literature, translation studies, literary bilingualism, modernism, poetry, stylistics and digital humanities (especially stylometry). She developed a collaborative tool for the study of comparative stylistic analysis Bukvik http://bukvik.litterra.net/. Presently, she is completing a monograph on translingual literature and researching a second book project on translation and cross-lingual stylistics. Other current projects include recent and forthcoming publications in Target, Modernism/Modernity and World Literature Studies as well as work on collaborative self-translation, the translated text, Joseph Brodsky, Romain Gary and Vladimir Nabokov.