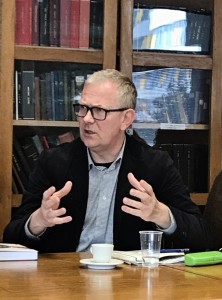 Lit_cast Slowakei is the first podcast about Slovak literature in German hosted by Michal Hvorecký. This podcast is designed
for people who are interested in the life
of Slovak books in German speaking countries. In the 14th edition of Lit_cast Slowakei Michal Hvorecký talks with Adam Bžoch, literary scholar, Germanist, Dutch language scholar and translator from German and Dutch literature who currently works at the Institue of World Literature at SAS. He taught at universities
in Bratislava, Ružomberok and Trnava. In 2020, he was a visiting scholar at the Viennese International Research Center for Cultural Studies. You can listen to it here.