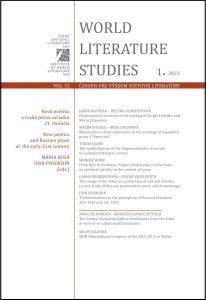 Mária Kusá
Ivan Posokhin
(eds.)
Russian prose of the early 21st century, as one of the last refuges for freedom of expression in Putin's militant Russia, has gone through several poetological and thematological transformations. The studies in this issue, originating from the post-socialist cultural spaces, present a "sideways glance" at the key names and works of this period, reflect changes in literary paradigms, approach traditional categories such as literary space or plot in the framework of existential poetics, (re)interpret ways of presenting one's own identity and images of the Other, and present the reception of Russian prose in the current wartime circumstances.
JAKUB KAPIČIAK – HELENA ULBRECHTOVÁ
Postmemorial sincerity in the writing of Sergei Lebedev and Maria Stepanova
MAXIM DULEBA – IRINA DULEBOVÁ
Metamodern urban experience in the anthology of topophilic prose V Pitere zhit'
TÜNDE SZABÓ
The symbolization of the fragmented plot structure in Ludmila Ulitskaya's novels
MONIKA SIDOR
From Kyiv to Brisbane: Evgenii Vodolazkin's reflections on spiritual identity in the context
of space
GANNA MEREZHYNSKA – OLENA VASYLEVYCH
The image of the Other as a reflection of cultural identity (a case study of Russian postmodern prose and dramaturgy)
IVAN POSOKHIN
Transformations in the perception of Russian literature after February 24, 2022
ANNA ZELENKOVÁ – AGNIESZKA JANIEC-NYITRAI
The Central European path to worldliness from the point of view of so-called
small literatures
The full content of the issue with links to the individual texts can be found HERE.